The watermelon cake craze has swept across Australia, and the watermelon cakes in Hong Kong must be reminded of Lifetastic, a unique cafe. Recently, the newly opened branch in Tsim Sha Tsui is full of design, which matches well with the fresh and gorgeous watermelon cake. The restaurant was designed by Max Lam Designs and won the "Restaurant and Bars Design Awards" and "UK A&D trophy awards, Hong Kong". The idea of Max Lam Designs comes from the distinct layering and elegant theme of the watermelon cake.
"Grand" is a feeling and a concept. The designer uses multiple layers of noble and elegant colors to match the watermelon cake with distinct layers. The floor is made of marble tiles of different colors to form an arrow-string pattern, which is gorgeous and practical, and has the function of guiding the way visually. The upper layer of the wall body and ceiling color is distinct, and the lighter and darker colors are progressive. The use of tiles of the same color creates an arc-shaped line extending from the wall to the ceiling, which merges into one.
The designer cleverly used geometric elements and metal to guide the way to divide the restaurant seats into several areas to meet the needs of different guests. The sea-blue sofa area allows the family to rest and relax; the "High table" seat is suitable for couples and close friends; the VIP round table area is more private and is the best choice for friends. Different areas are connected with noble and elegant themes. The designer makes good use of various circles and arcs, and the atmosphere feels softer and more comfortable, creating a relaxing space for guests to forget their short-term fatigue.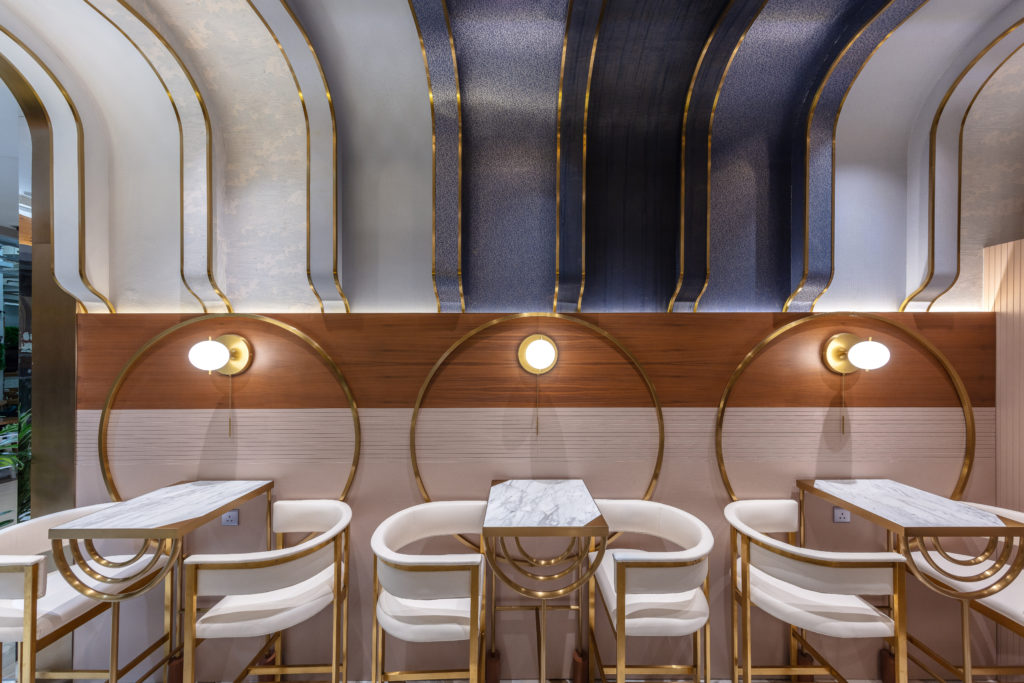 The center of the restaurant is the food area. The design is mainly gray and white natural marble, seamlessly connecting the wall and the cake display cabinet. Marble along the grain is simple and noble, setting off the colorful watermelon cake with rich layers. The whole design shows different areas in an elegant style, and the layering of watermelon cake is assembled with simple and noble masonry paving.
ASA Tiles adheres to the insistence on quality and is committed to providing designers with materials of different styles to achieve exquisite and magnificent artworks.
Interior Design/Lighting Design: Max Lam Designs
Photographer: Dick Liu
Text: Bill Lam